Acetylene vertical piston compressor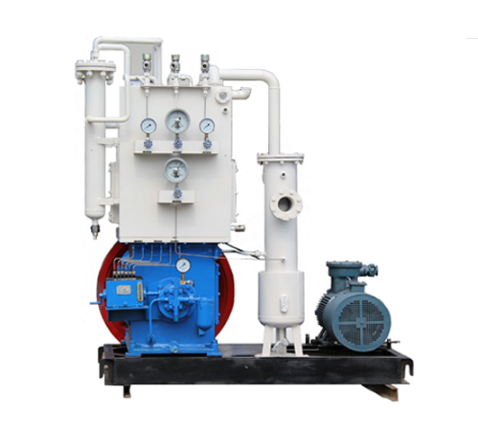 Introduction of vertical acetylene piston compressor
Piston acetylene compressors are mainly used in acetylene stations to fill acetylene cylinders and chemical industry. Generally, the intake pressure is normal pressure, the exhaust pressure is up to 2.5 Mpa, and the displacement can be from 20m3/h to 100m3/h. Acetylene gas is a special industrial gas that is inflammable and explosive. Dissolved acetylene equipment is a special chemical equipment strictly regulated by the state. The safety of acetylene compressors is first, strictly in accordance with the national machinery industry industry standards: JB/T9103.1-1999 "Technical Conditions for Reciprocating Piston Acetylene Compressors".
The vertical acetylene piston compressor produced by our company is a vertical, double-row, three-stage differential piston water-cooled structure. It is driven by an explosion-proof motor, driven by a gear reducer and then directly driven by a cross coupling. The cylinder axes of each stage are arranged vertically.
Please feel free to give your inquiry in the form below.